Mozilla Firefox is a free and open source web browser managed by the Mozilla Corporation. Firefox is the second most popular browser in the world.
How to make BishopMail the default mail to handler in Firefox
Would you like to be able to click email links in Firefox and have it automatically launch a new BishopMail message by default? Here's how to set that up, but it requires the latest version of Firefox, v3.
Login to BishopMail in Firefox (http://mail.owu.edu/).
In the tab where BishopMail is loaded, copy and paste the following snippet of code into your address bar. Be sure to get all the text in bold:javascript:window.navigator.registerProtocolHandler("mailto","https://mail.google.com/a/owu.edu/mail/?extsrc=mailto&url=%s","BishopMail")
Press Enter on the keyboard.
Firefox will ask permission to add BishopMail as an application for mailto links. Click the Add Application button, as shown. (If nothing happens and this bar does not appear, please call the Help Desk and we'll assist further.)

Now, click a mailto: link: helpdesk@owu.edu. Firefox will ask which application you want to use. Choose BishopMail (not Gmail,) and select "Remember my choice for mailto links" to set the preference permanently.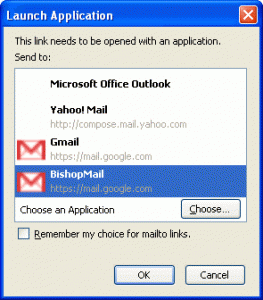 Good Add-Ons
But remember the more you add the slower the initial startup
Forecastfox Enhanced: Weather bar on bottom of window (instead of Weatherbug).
Adblock Plus: Blocks some of the annoying ads some sites have on their pages.
Cooliris Previews: Gives a preview of the page without actually going to the page
IE Tab: Allows Firefox to open pages that normally require IE.
McAfee SiteAdvisor: When doing a search it rates the pages of the search result as good or bad in regards to spyware an spam (works in IE also). Note: McAfee Site Advisor has caused a display conflict in Microsoft Outlook on four campus computers, yet Site Advisor is used on almost all University owned computers.
Better Gmail 2 adds useful extra features to BishopMail, like hierarchical labels, macros, file attachment icons, and more.
Note: There are some compatibility issues with Blackboard and Firefox v3.
How to change homepage
How to set a single web site as your home page:
Open up the website you want to be your home page.
Click on the icon to the left of the web address, drag it to the Home button and then let go.
Click Yes to set this as your home page.
How to set more than one website as your home page:
This is the way to have one click access to all of your favorite websites. For example, you can set the Firefox home button to open your email, favorite news site and Facebook all at once.
Open a new window and load up the first website you want to be your home page.
Click the new tab button and open the next website you want to be part of your home page group. Repeat this step until you're done opening all the pages that you want in new tabs.
At the top of the Firefox window on the menu bar, click on the Tools-Firefox-Edit menu, and select Option-Preferences
Select the General panel (Main panel in Firefox 3.5).
Click on Use Current Pages.
Click OK to close the Options window
Click Close to close the Preferences window
Try it out: Go ahead and close all of your tabs and click the home button. Watch all of your chosen pages open up in tabs. Do it again; you know you want to.
How to fix inability to view PDFs
Go to Tools | Options
Select the Applications tab.
Find "Portable Document Format (PDF)" in the list of Content Types
Switch the Action to "Use Adobe Acrobat (default)".
Click OK
Close Firefox and restart it.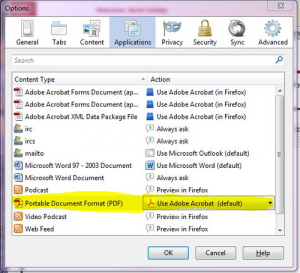 External Links