There are several ways instructors may set up online discussions with students in Blackboard. Most of them are asynchronous, while virtual office hours are live. All of them, other than virtual office hours, can be used with specific user groups.
Video Everywhere
Video Everywhere is a feature that allows users to utilize their webcam and microphone to record video and insert it into a forum post, an assignment submission, or a test–anywhere you find the rich text editor. Simply click the Video Everywhere toolbar button, ("Record from Webcam") on the bottom toolbar and follow the prompts.
(If you don't see the Video Everywhere button and you only have one toolbar, click the 'Show More' button on the far right.)
If you haven't already activated your YouTube account–freely available with OWU BishopApps, you will see the message below. Please note that the 'Sign into YouTube' link has been successfully tested in Chrome and Firefox but does not work in Safari on Mac or Windows. So if it is not working for you please try a different browser.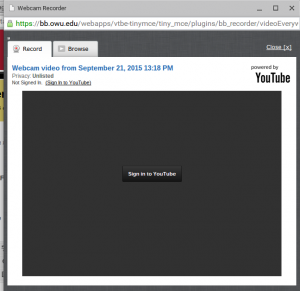 Beware, you may encounter a Pop-up blocker that will block the 'Sign into YouTube' page. Click the notification and select 'Always allow…' and then click the link above that.
You will then be led through the process of setting up your YouTube channel, starting with granting permission for OWU Blackboard to access your information:
When you see the "OWU Blackboard would like to:" permissions screen, check to be sure the Google account you wish to use is shown at top right.
If someone else has signed into Google in the browser it will show their email address or name, rather than the Blackboard user account. To change this, click on the account name and select Add Account then proceed to login:
You will then be asked for basic information to set up your YouTube channel:
Note that the name as you enter it here will replace your default name throughout all OWU BishopApps.
You will likely see several messages asking to use your camera and microphone. It is safe and necessary to accept all of them. To avoid the Adobe Flash Player Settings continually asking for your permission to access your camera and microphone select 'Allow' then 'Remember,' finally click 'Close.'
This slideshow requires JavaScript.
When your verification is complete you will be taken back to Blackboard Learn and shown a familiar screen but 'Record from Webcam' will be shown, you will need to select that and you should be able to begin using Video Everywhere.
Once you're done recording or selecting an existing video, you'll get to set some preferences for how it appears within Blackboard.
Discussions Forums
These are threaded conversations organized by topic. Contributions to Blackboard discussion forums may be graded assignments and assigned to groups. See how to create one: Create a Forum
Blogs
Blogs are short blurbs, essays, or articles arranged chronologically with comments (responses) below. Blogs in Blackboard may be graded assignments and assigned to groups of students. See how to create one: Create a Blog
Wikis
Wikis are editable web pages. They may be used for free-form conversations and brainstorming, as well as collaborative composition and revision. This feature automatically records version history to track who has made each change and when. Wikis in Blackboard may be graded assignments and assigned to groups. See how to create one: Create a Wiki
Virtual Office Hours
Office Hours in Blackboard is a chat room that all students in the course may join. This cannot be automatically added to the Grade Center or assigned to individual groups. It is a good tool for answering questions and discussing in realtime. You will have to communicate at what time(s) you will be available. (What are your virtual office hours?)
To open Office Hours either click the Tools navigation button and then Collaboration, or select Collaboration from the Course Tools section of the Control Panel. There you will find Office Hours. Clicking the "Office Hours" link will take you directly into the chat room (which opens as a Java applet–you may be prompted to download and/or enable a plugin.)
External Links