Adapter Addresses
Every network interface card (NIC) has a unique physical identifier known as a Media Access Control (MAC) address. These physical addresses are used to register devices on the OWU networks. If you use the automated process by pointing your browser to http://register.owu.edu/ for the Residential Network or http://wifi.owu.edu/ for the BishopNet wireless network, your MAC address is registered automatically. If this automated process is not working for some reason, or you are using a device, such as a gaming console, that does not have a web browser you will need to provide Information Services your MAC address and your student ID number.
---
Contents
Finding a MAC Address on Windows
Finding a MAC Address on Macintosh OS X 10.8
Finding a MAC Address on a Gaming Console
Related Links
---
Finding a MAC Address on Microsoft Windows
If your keyboard has a Windows key you can hold this down and press the R key. If not, select Run from the Start Menu.
Type in "cmd" (without the quotes) and press Enter.
In the command prompt window type "ipconfig/all" (without the quotes) and press Enter. This will display a long list of information. The information is divided into several sections such as Windows IP Configuration, Ethernet Adapter Wireless LAN, Ethernet Adapter Wired LAN, and more. The adapter address is listed as the "Physical Address". It is a string of 12 alphanumeric characters in 6 sets of 2 characters: xx-xx-xx-xx-xx-xx. You may need to scroll up to find this info. Be sure to find the address in the appropriate section.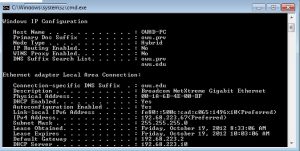 FINDING A MAC ADDRESS ON MACINTOSH OS X 10.8
Within the System Preferences, select the networking icon. This will show you the status of all network settings within your system.
Select Wi-Fi on the left.
Click on the Advanced button, on the bottom right.
Select the Wi-Fi tab in the Advanced Wi-Fi settings, your MAC address will be displayed at the bottom of the screen.
Finding a MAC address on Gaming Consoles
Please see the Gaming Consoles page.
---
Related Links
BishopNet
Network
Accessing the Windows Network on a Macintosh Computer
---