BishopApps is OWU branding of G Suite for Education. Its core services are
Calendar
Classroom
Drive, Docs, Sheets and Slides
Gmail
Google Chrome Sync
Google Hangouts
Groups for Business
Hangouts Chat
Jamboard Service
Keep
Sites
Tasks
However, there are many more Google apps, such as YouTube and Scholar, that you also have access to through your OWU BishopApps account.
Multiple Sign-ins
Why do I have two existing Google accounts?
Years ago, Google released an update to force the reconciliation of conflicting accounts. These are personal accounts (not managed within the OWU BishopApps domain) for non-core Google services that people signed up for using their @owu.edu email address. They must have signed up for these accounts prior to 2010, when we included lots of other Google services (YouTube, Blogger, Google +, Analytics, Chrome Management, Maps, Photos, etc.) in our Google Apps for Education domain. Users may not remember creating these accounts or even be aware that they have them, so they're confused when they see this prompt: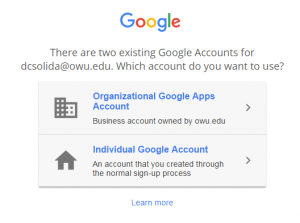 No notice will be sent to users, but the next time they go to sign in to a browser that doesn't remember them (where they haven't clicked the 'Stay signed in' box when entering their password) they'll get the notice. We have no way to find out which users in our domain have conflicting accounts, but Google has instructions posted (pretty much the same as they were 5 years ago) and should be simple to follow.
Click here for more information on how a conflicting account is created.
Click here for a Help Center Article that will help you resolve the conflicting accounts. Click here for instructions to delete your personal Google account.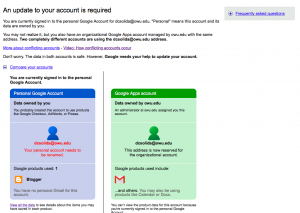 Will any of my Docs, Sheets, Calendars, or other data be preserved when my OWU BishopApps account is deleted?
The deleted user will no longer be able to sign in to BishopApps.
Any existing mail and chat messages in the user's account will be lost.
Groups: A group created by a deleted user does not ever get deleted automatically. Information Services can see/manage all groups.
Docs: When a user is deleted, all docs created by this user will be deleted as well. There is no fixed time for this. Typically, docs disappear after five days. However, sometimes they may be available for a slightly longer period of time depending on when the purge task executes. The best practice is to reassign ownership of important docs before account deletion.
Sites: Sites that were created by a deleted user do not get deleted. All sites stay unless they are explicitly deleted. Information Services can access all sites in BishopApps regardless of the share/visibility settings.
Calendar: The user's primary calendar will be deleted but events created by the user will not. Secondary calendars created by a deleted user do not get deleted. However, if others in the domain want to be able to manage these calendars they must be given ownership before the calendar is deleted.
Blogger: All blogs owned by the user will be deleted when the user account is deleted.
See this related article for more information: http://www.google.com/support/a/bin/answer.py?answer=33314 (Note that the article is for Google Apps Administrator help. OWU Information Services works with the Registrar's Office, Human Resources, and Alumni Relations in the routine removal of user accounts.)
External Links