BishopApps is OWU's online application suite powered by Google's Google Education Fundamentals. BishopApps provides students and faculty with web based email (BishopMail), calendars, office applications (documents, spreadsheets, forms, presentations, and drawings), and personal web pages.
How to Access BishopApps from BishopMail
Next to your email address in the top right hand corner there is a square made up of black dots. Click on the square and a drop down menu will appear with all of the apps such as calendar, drive, sites and more.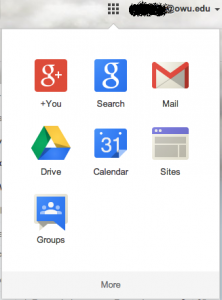 BishopMail
Drive, Docs, Sheets, and Slides
Drive, Docs, Sheets, and Slides gives you access to Google's online word processing, spreadsheet, forms, presentation, and drawing creation software using the same account info you use to log into BishopMail. It can also be used as an online file repository. A short summary from the Documents homepage:
Create and Share Your Work Online
Upload from and save to your desktop
Edit anytime, from anywhere
Pick who can access your documents
Share changes in real time
Files are stored securely online
For more info about BishopApps Drive, check out the tour or see the Google Docs help page. Start using BishopApps Drive by going to the BishopMail login page, logging in as usual with your OWU email credentials, and clicking on the apps symbol in the top right hand corner (small sqaures) and selecting Drive.
Drive, Docs, Sheets, and Slides are available on mobile apps for Android and iOS:
Google Calendar
Discussion
Google documents have comments and discussions, improving Google Docs as a collaboration tool. Discussion/comments are visible to shared viewers and collaborators. These features include: discussion thread, time-stamp, profile pictures, and comment notification. Discussion statuses include Edit, Delete, Resolved, and Link to this comment. The discussion thread is archived and can be recalled by clicking on the Discussion button at the top of the Google Docs screen. Comments and discussions are only available in documents created since March 2011.
How to Insert Comments
Place you cursor or highlight the text where you'd like your comment to appear.
From the Insert Menu, select Comment.
You can also use the keyboard shortcut Ctrl+Alt+M (Cmd+Option+M for Mac) to insert a comment.
Type your comment in the box that appears to the right of the document.
How to Work With Comments
After inserting a comment, there are two main places you can work with it inside the document: within the comment or in the discussion thread accessible from the Comments drop-down menu in the top right of your document. You can reply to a comment with a new post, edit or delete previous comment you've inserted, and resolve the discussion when you're ready to remove it from the document. Resolving a discussion removes the discussion from the document, but resolved threads will always be available under the Discussions drop-down menu.
Using BishopApps Documents Forms to Create Online Surveys
Sign into BishopApps
Click on "Drive" tab in the square drop down menu in the top right of the page.
Once in Drive click on the red "New" tab. A list will drop down, select "form".
Then you create your survey by typing your questions and selecting the question types you wish to have.
When you are finished creating you survey click on the "Done" tab.
The URL, or web address, for the survey appears at the bottom of the form. When people start filling out the form, BishopApps will keep track of responses in a spreadsheet. To go to the form from the spreadsheet use the Form menu.
Sites
Google Sites is a free and easy way to create and share webpages right from your BishopApps account. You can create rich webpages easily and control who can view and edit them. For more info on Google Sites check out the overview or the help page. To start using Google Sites go the the BishopApps page and login using your normal OWU email credentials and then click on the "Sites" link in the square drop down menu on the top right of the page that loads after you log in.
Groups
Google Groups is all about helping users connect with people, access information, and communicate effectively over email and on the web. Anybody can create, join, and search groups. Some further information on OWU BishopApps Groups:
All BishopApps Groups are private, meaning external members can only send email to groups. They do not have access to the group site.
Anyone in the owu.edu domain can create groups. A newly created group will automatically have the suffix "-group" added to its group email address (so groupname-group@owu.edu). Group creators automatically become group owners.
Group owners can add members from outside our domain, and can allow incoming email from outside this domain.
All newly created groups are hidden from the groups directory by default. Group owners can choose to list groups in the groups directory.
Email aliases we've created in our LDAP show up as Groups, and members (targets of the alias) have access to them with all the features of a Group. However, these alias groups (and they all have a prefix "alias: ") do not have owners, and members have no control over the group.
OWU BishopApps Groups are available via the "More" link next to "Sites" along the top of the screen.
To learn how to create a Google Group, see the instructions on Google's help page. (Note: some of the options shown in the video do not apply to our BishopApps domain.
To learn more about Google Groups, see Google's help page.
Troubleshooting
If you're having issues with BishopApps you can check the G Suite Status Dashboard to see if Google is having any problems with their service. If there's an issue with the BishopApps service (as opposed to a problem with your own computer) it should show up on that page.
External Links